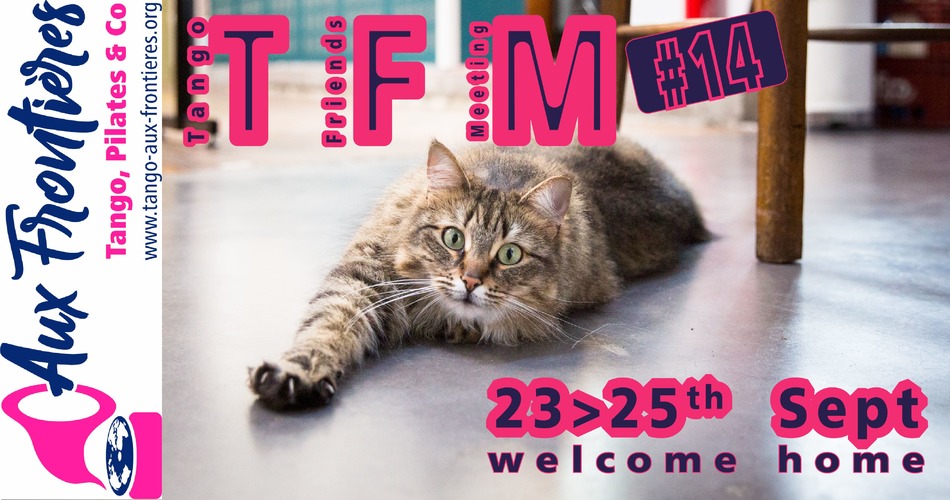 COMPLET, no more possibilities 
Our famous star of the dance-floor , our cat "Fifi" - is happy to invite you @ home for the next edition in September.
this weekend is organized with friends, for friends and friends of friends. 120 guests only.
26h of argentinetango music,
Home made food during all the week-end
coffee and tea, water at any time for free, and the bests beers and selected wine.
friendly spirit, smiles, and warm embraces night and day.
On the dance floor:
An equal balance between leaders-followers will be aimed for.
Even if TFM is not an "Encuentro", Codigo is natural and required, this is the more friendly way to respect each other.
Eat? Drinks?

> Friday: 14h30 welcome to first guests, buffet 19h30-21h by Ludo "Tango Cuisine"
> Saturday: Lunch at 12h, Barbecue (meat) or vegetarian food 19h30-21h
> Sunday: Mega brunch 11h-13h
> Every day: snacks, fruits, coffee and tea, water, home-made fresh soup during the night.
Dj?
> Friday:
14h30-19h30 "Don Esteban" Stefan (Germ, Hamburg)
21h - 2h: Véronica Вероника Корчак (Ukraine)
> Saturday:
14h30 - 19h30: Dj Charlotte (Germ, Hamburg)
21h - 2h: Volkan (Turkey, Istanbul)
> Sunday:
13h -18h00: Greg (@home)
Price?
> For all this: we ask 135 €
Where to stay? 
NEW deal with B&B hotel TOURCOING CENTRE
Special price with the code tango aux frontières: 45€ / night / double room.
Reservation by phone :+33 3.20.28.83.01 or EMail : bb_4523@hotelbb.com 
Adress : 83 rue de Tournai 59200 Tourcoing FRANCE
Registrations? COMPLET



most of our friends use this group on Facebook to share info and prepare their coming
Lire plus