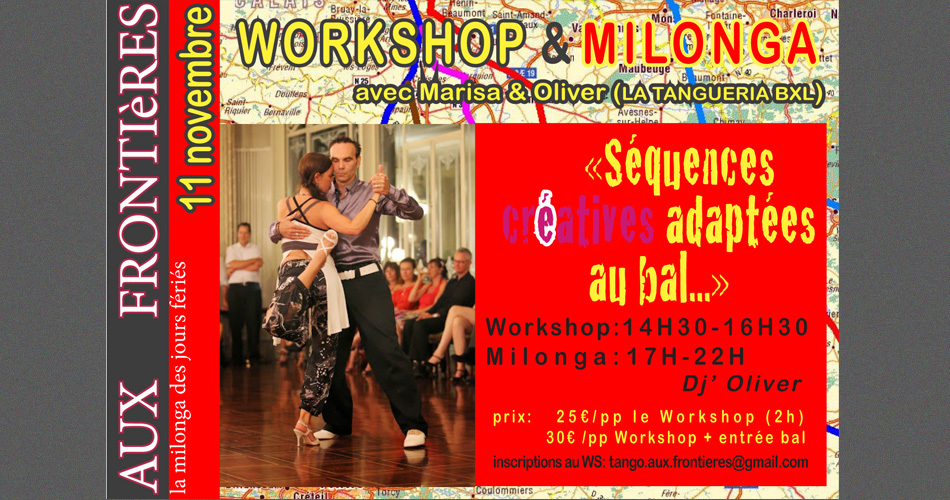 Guests:  OLIVER & MARISA (LA TANGUERIA, Bruxelles)
WORKSHOP 2 heures de cours,  14h30 à 16h30
2 hours from,  2h30 pm to 4h30 pm
Based on a sequence of tango abrazo closed and adapted to the milonga, students will have an active role in the educational process that aims to stimulate their creativity.
price for 2 hours: 25 € /p , 30€ included the entrance to the milonga
workshop only on registration, submission on line HERE
Last year, Oliver &Marisa gave a workshop about "Milonga" which had a lot of success. They come bak this year with a unique theme designed to develop the creativity of the dancers. 
Oliver Koch and Marisa van Andel have their own school and regular milonga in Brussels since 2006. This pair of professional dancers is regularly invited to workshops and demos in europe, and also collaborates International Festival of Brussels and Brussels Tango Marathon. They are recognized for their quality of education and method of work clear and progressive. They plan, in addition to weekly classes, monthly thematic workshops that enable more advanced re-work the fondamataux and creativity.
MILONGA de 17H à 22H avec DJ OLIVER

no registration required to come to the Milonga
Lire plus