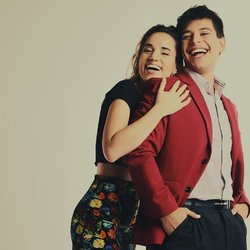 The double role practice open up our range of possibilities and we manage to understand dance from a more global point of view that undoubtedly feeds our imagination, makes us more perceptive and develops our technical skills, helping us to go out of our confort zone. There are more common points than differences inside leading and following, exploring both sides of the dance will definitely improve our natural role and help us to build up solid foundations.
"Active roles, techniques and concepts"
Looking for an active and open attitude both roles. The idea is to eliminate the concept of simple leading a step or following a direction, we will focus on building the dance always from the contribution of both roles. Learn to dance through the other no matter what role we are playing. We will approach different kind of exercises and concepts that will go from general technique to specific skills that are not usual work on in each role.
"One step, two points of view"
We will focus on finding new options within the dance structure and improving the creative abilities of both roles. Reviewing technical aspects for the execution of different elements but always emphasizing the diversity of possibilities offered by us to execute the same step as leaders or followers.
saturday:

15h seminar part 1 "Active roles, techniques and concepts" (3h)
18h30 dinner
20h30 Milonga

Sunday:

11h Brunch
13h seminar part 2: "One step, two points of view" (3h)
PRICE:
150 € /p: 6h seminar+ milonga + dinner + brunch + night

130 € /p: 6h seminar+ milonga + dinner + brunch

100 € /p: 6h seminar+ milonga

24 € Milonga & dinner (starter-main dish- sweet - 1 drink)

8 € Milonga
Eva & Bruno are enthusiastic, talented and very good teachers.
They are coming back to Belgium for the second time, with our friends of Tangorrion.
Already unanimously appreciated, their teaching starts from simple and precise sequences, to develop all the notions of the tango. Individual corrections of a great accuracy allow each one to put in his own dance the notions seen in course.
We were inspired by their style, precision, energy and knowledge of music to build this unique seminar!
Eva & Bruno sont enthousiastes, doués et très bons pédagogues. 
Ils reviennent en résidence en Belgique pour la seconde fois, avec nos amis de Tangorrion. 
Déjà unanimement appréciés, leur enseignement part de séquences simples et précises, pour développer toutes les notions du tango.Des corrections individuelles d'une grande justesse permettent à chacun de mettre dans sa propre danse les notions vues en cours. 
Nous nous sommes inspirés de leur style, de leur précision, énergie et connaissance de la musique pour construire ce séminaire unique!