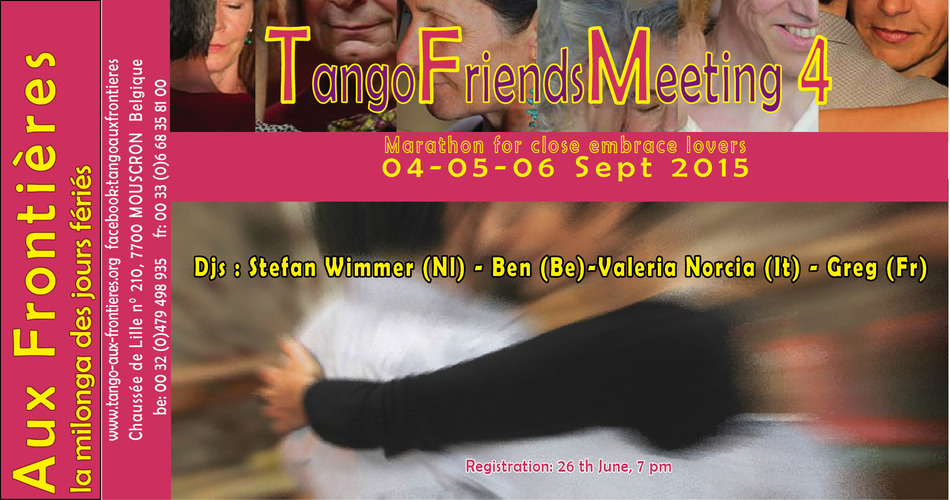 4th edition of this nice and friendly week end.
how to reserve? : link here

Friday:
20h30: opening night, DJ Stefan Wimmer (Nl-Nijmegen)
Saturday:
12h45- 16h30: visite culturelle 100% belge, very traditional brawery "La Frasnoise", meeting point 12h45 on parking near the milonga "risquons tout" to organize carpooling.
17h-21h: Milonga part1 Dj 'le Derny' Greg
21h-2h: Milonga part2 Dj: Valeria Norcia (It-Siracuse)
Dimanche:
13h-18h: Milonga de cloture Dj Ben (Be-Gand)

How to reserve : (en français plus bas)
registrations will be opened on Friday 26 june; 7 pm. 

You have time to contact friends and organize your trip: priority is to people who register with friends who never come to our milonga. 
Your registration will be confirmed as soon as possible by email.

3 days Pass : 49 Euro, 1 drinkcard included (value 5 €)
entrée à la journée: 1 milonga: 15€ friday or sunday, 20 € saturday
included snacks & home made food, fruits, water, coffee and tea, soup during the night.
An equal balance between leaders-followers will be aimed for.
Lodging at the venue are possible, reservervation needed. FULL

NEW: we are organizing a visit to a traditional brewery on Saturday afternoon . The artisan brewer is the friend of a friend tanguero: he opens its doors exceptionally on Saturday afternoon and we will taste its products.
http://www.brasserie-frasnoise.be/
only 7€ to visit and taste different kind of beers, carpooling will be organized

"Tango Friends Meeting" ?
What's that ?
It's the missing link between Encuentros and Marathons.
3 days of nice tango with friends, and "friends of friends".
Why "Friends" ?
Because every one has some friends abroad, who could not yet find the time to visit this spot in the world where tango & socializing get together.
For Christ sake ?
Because we like to welcome people from abroad, because we want to share our place with them, and eventually get the feeling we're elsewhere while being at home..
Tango Friends Meeting, the best way to bring your friends tangueros to this wonderful region

Lire plus